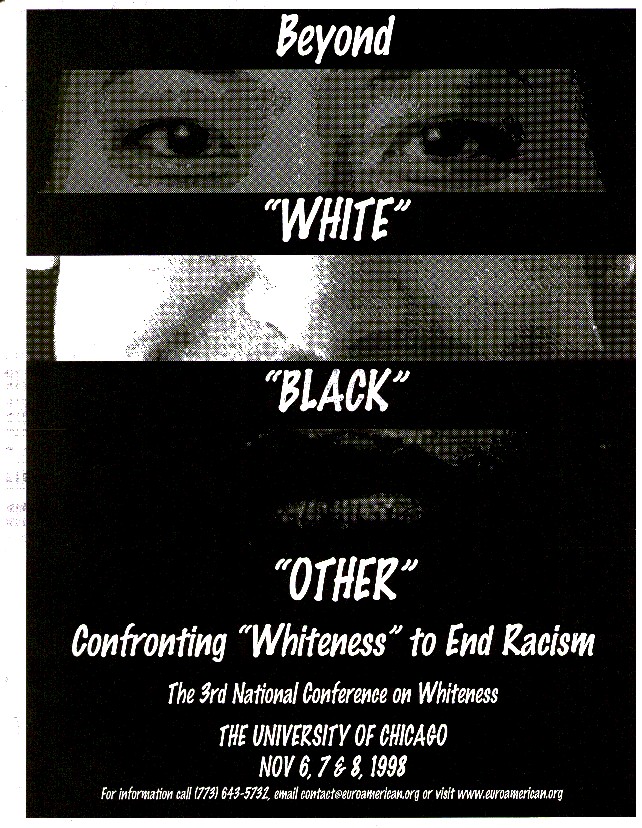 The 3rd National Conference on Whiteness

November 6, 7 and 8, 1998
University of Chicago
Ida Noyes Hall

---

FLASH ANNOUNCEMENTS!

Accomodations update...sleeping bag space. The last word from this web page, again from Keith. If you come and bring a sleeping bag, we will find a place for you. Also, be sure to bring towels, toiletries, and if desired, food. There will be sign-up sheets at the registration table for those needing a place to stay, and those willing to offer space. An announcement will be made prior to the Friday Town Meeting and the Saturday Panel, and those needing space will be asked to stand so that they can be matched with space providers. [11/3/98]

Accomodations update...hotels, etc. Keith Schelsinger has been scouting accomodations and has several suggestions, plus reserved blocks of rooms at two area hotels. Click here for more information, or call Keith directly at (773) 451-3593.[11/1/98]

This is it! The webmaster has departed, heading west to Chicago to be there when it happens. Hope you've found the web page helpful. It's not too late to come join us for the real event. [11/3/98]

Onsite Registration - Where and When

What it's about

Program Information Announcements - recent updates

Call for presenters

Information on previous conferences

Sponsoring organizations & members of the planning committee






This year promises to be a vigorous multi-racial exploration of "white" identity and its effect on American racism. About 500 activists and academics are expected to attend what has become the first and only annual conference on "whiteness" in the U.S.A.



A FIRST

In November, 1996, a motley group of activists and academics from cities and towns throughout America came to Burlington, New Jersey for the 1st National Conference on Whiteness. For two days 54 people attended workshops, compared notes and planned strategies for a new movement to confront the damage of centuries of slavery, racism, white supremacy and white privilege in America.



A BIG STEP

A year later, the group had grown to over 300 and met in Harvard Square in Cambridge, Massachusetts for the 2nd National Conference on Whiteness, Exploring Whiteness to End Racism. In the meantime, the White Studies Movement had begun to gain nationwide attention, with a conference put on by graduate students at Berkeley in 1997, and articles and interviews in such leading national news and opinion media as the Washington Post, the Los Angeles Times, the Boston Globe, the Chicago Tribune, National Public Radio, among many others. The Hungry Mind Review published a special Whiteness issue.



THIS YEAR

The 3rd National Conference on Whiteness, BEYOND "WHITE", "BLACK" or "OTHER": Confronting Whiteness to End Racism is taking place at the University of Chicago, November 6,7, and 8. It promises to be a pivotal event in race relations in America, with an expected attendance of 500. This year we're making a special effort to invite multi-racial, multi-cultural and diverse participation at all levels.

But our mission is the same: to be the leading national gathering of people of all racial and cultural backgrounds for the study of "whiteness" for the purpose of ending the debilitating disease of racism in America. We meet with the urgent agenda of preventing our national disgrace from attaching itself to a new millennium.



---
Program format and schedule



We intend to create a space where participants can:


build community;


share resources for training, scholarship, organizing, research, publishing, etc.;


explore particular aspects of white identity and culture through structured and casual conversation;


deepen of our collective understanding of the problems created by whiteness and of the ways in which to heal from those problems;




Friday, November 6

1:00 to 5:00 PM
Whiteness & Media Symposium

5:00 to 6:00 PM
Light food and reception

6:00 to 9:00 PM
Town hall meeting
A Dialogue on Whiteness and Racism


Saturday, November 7

9:00 to 10:00 AM
Welcome, roll call (participant introductions), orientation

10:00 to 11:00 AM
Panel
Diverse Ideas on Fulfilling Our Mission

11:00 AM to 12:15 PM
Group response, Q & A

12:15 to 2:00 PM
Lunch (on your own)

2:00 to 4:30 PM
Workshops/Presentations/Conversations

4:30 to 7:30 PM
Caucuses
Dinner break (on your own)

7:30 PM until...
Entertainment


Sunday, November 8

9:00 to 9:30 AM
Coffee/tea

9:30 AM to 12:00 Noon
Workshops/Presentations/Conversations

12:00 to 1:30 PM
Lunch (on your own)

1:30 to 4:00
Plenary - participant discussion
Call to Partnership in Action - Share Your Plans

4:00 PM
Closing










Announcements and Recent Updates



We have expanded the conference schedule to include a Friday afternoon event, a Whiteness & Media Symposium. The symposium is scheduled for 1 PM to 5 PM on Friday, November 6. [9/98]

If you have trouble submitting proposals to contact @euroamerican.org...
We have a report from one team of presenters that they are unable to send email to contact@euroamerican.org. We continue to receive mail at this address, but it is not clear that all persons can get through. If you have trouble, please use DrCFlint@aol.com as an alternative address. [9/98]

We have received some proposals and have spoken to several more people who intend to submit by October 1. Nonetheless, since our Call for presenters has only been circulating for 4 or 5 weeks, we still have ample space for presenters. If you are working on a proposal, we encourage you to complete and submit it. [9/98]

Want to join the Chicago effort? According to the conference planning team in Chicago..."We're meeting Thursdays at 5:30 pm in the Reynolds Club basement, Room 001, 5706 S. University Ave. at the University of Chicago." Anyone interested is invited to attend. For information, contact Lowell Thompson at (773) 643-5732. [10/8/98]

It's not too late to submit a proposal for a workshop or presentation. We are assembling the program, but we still have some space available. Please check our Call for Presenters, below, for instructions on how to submit your proposal. [10/9/98]

Submission deadline: Wednesday, October 21, FIRM. We have received several proposals that examine race and racism and we will incorporate them into the program. For submissions between now and the cutoff date, we will give priority to proposals that specifically address whiteness along the lines of the conference title, theme and goals. (See our Call for Presenters, below, for a detailed statement of title, theme and goals). [10/14/98]

Proposals due today, Oct. 21, midnight, FIRM. Email to contact@euroamerican.org. To fax, call our voice number (908) 241-5439 first. Submissions should specifically address whiteness along the lines of the conference title, theme and goals. (See our Call for Presenters, below, for a detailed statement of title, theme and goals). [10/21/98]

Updated list of presentations... The final list of concurrent workshops and presentations is now available below. Please note, the conference will also feature many more events outside of the concurrent presentations. [10/29/98]

Travel directions... Check the travel information below for detailed directions from many points in Chicago to the conference. Includes airport and Amtrak information. Also provided are some maps of Chicago and the locations on the University of Chicago campus where the comference will be held. Appreciation to Keith Schelsinger for providing this information. [10/28/98]

Accomodations (some inexpensive)... Also provided by Keith is a list of places to check for accomodations near the conference, some of which are inexpensive. See the travel information below. [10/28/98]

Good music, fun time... Some thoughts from Chicago, "...we're going to have music on both Saturday and Friday night in Hutchinson Commons in the Reynolds Club, and we have folks organizing both. Friday looks like it will be loud and youth-oriented, punk and hiphop. Saturday will be a little softer and more unusual. On Friday, people after the Town Hall can either go to the music, or stick around the marketplace outside the Hall to get info and talk (or go to the coffeeshops in the building to talk)." [10/21/98]

Want to join the Chicago effort? According to the conference planning team in Chicago..."We're meeting Thursdays at 5:30 pm in the Reynolds Club basement, Room 001, 5706 S. University Ave. at the University of Chicago." Anyone interested is invited to attend. For information, contact Lowell Thompson at (773) 643-5732. [10/8/98]